News
During the last couple of years I have had an increasing number of opportunities to hone my craft and to deepen my commitment to the art of portraiture.
In 2012 Federated Mutual Insurance Company was introduce to my work on this website and asked me to submit a proposal for the portrait of Al Annexstad, their retiring Chairman and CEO. I won the opportunity to paint that portrait, and, based on the success of that painting, I was awarded the commission to do the portrait of their current Chairman and CEO, Jeffrey E.
Fetters.
I am extremely happy and proud to be working with Ann Fader of Portrait Consultants/Ann Fader, Inc. She has been representing me since 2012 and is able to present my work to a wide audience in government, corporate, and institutional spheres. As a result of her efforts I have completed two Congressional portraits: Chairman Spencer Bachus of Alabama (House
Committee on Financial Services) and Chairman Dave Camp from Michigan (House Committee on Ways and Means). I am working on two additional Congressional Commissions and one corporate portrait, all of which came through Portrait Consultants.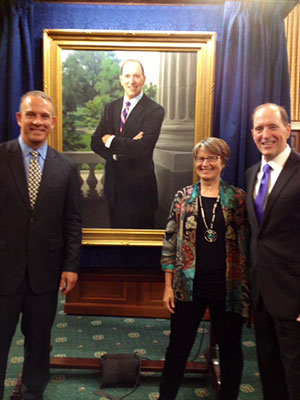 Leslie with Chairman Dave Camp and Jim Brandell, his Chief of Staff
You will see two additions to my gallery of animal portraits. "Alice", the Golden Retriever, came to me through Ann Fader, and "Rea", the handsome horse, was a commission I got as a result of my interest in the Long Lake Hounds, fox hunters who "ride to hounds" through the beautiful countryside in the western suburbs of Minneapolis.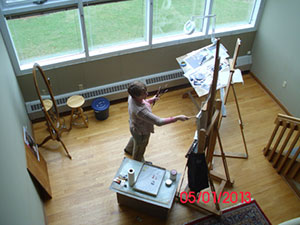 Leslie in the studio, as seen from the loft
Lastly, but certainly not least, in 2012 I moved my studio to 190 River Ridge Circle South, in Burnsville, MN. This building was designed as an art school, and my studio is one of several on the 3rd floor with a large bank of north facing windows overlooking the Minnesota River Valley. I love working in this peaceful setting, and hope to remain here for some time to come.